Go Green in a New Mazda MX-30, For Sale in Bakersfield
New Mazda MX-30
at Bakersfield Mazda
Explore the Greener Side of Mazda with the Upcoming All-New Electric Mazda MX-30 SUV
For drivers looking for a vehicle with eye-catching style, upscale design, and dynamic handling, the Mazda lineup is difficult to top. Every Mazda model is designed to elevate your driving experience from the inside out and make you feel like you are truly one with your vehicle. The upcoming Mazda MX-30 is no exception, and it brings with it a new way to approach your daily drive: pure electric power. The Mazda MX-30 holds the distinction of being the Mazda lineup's first all-electric vehicle.
What is the Mazda MX-30?
The Mazda MX-30 is an all-electric SUV. It's a brand-new addition to the Mazda lineup, giving drivers in the Bakersfield area an exciting new option to explore. So, if you're eager to enjoy exceptional Mazda style and performance without having to worry about buying gas, the Mazda MX-30 might be the perfect fit for you. You can keep its battery charged at home or at any of the thousands of charging stations available nationwide, so it's easy to keep the Mazda MX-30 charged and ready for adventure around the Arvin area.
Electric Power
The Mazda MX-30 draws its strength from a 35.5kWh lithium-ion battery and an e-SKYACTIV® powertrain. With pure electric energy and cutting-edge Mazda technology powering the Mazda MX-30, you can count on a spectacular driving experience that is easy to keep going with fast and easy charging.
Exterior Design
The Mazda MX-30 features a unique design that adheres to the Mazda brand's "Kodo" design philosophy. Each line and sweeping curve is crafted to create a modern look and evoke movement even while at rest. It's this exquisite craftsmanship and sense of dynamism that makes the Mazda MX-30 so adept at capturing attention, and we're confident that you'll enjoy turning heads as easily as you turn corners in this striking electric SUV.
Interior Features
The cabin of the Mazda MX-30 boasts a roomy, open design with high-quality materials like Heritage Cork to help create an airy, comfortable in-cabin experience. The interior also features a variety of other sustainable and low-impact materials to make the Mazda MX-30 even more eco-friendly.
One of the other notable features is the freestyle door that opens up the interior. These doors help to improve functionality, and they also offer fun new ways to use your car.
Safety Technology
If you're searching for a vehicle that inspires confidence as you drive around the Oildale area, the Mazda MX-30 is sure to impress. This electric SUV offers enhanced safety features like Smart Brake Support with an added collision prevention function that can help you avoid accidents at intersections. The Mazda MX-30 also has an enhanced lane-keeping assist system that can help you stay in your lane by monitoring both lane markings and the curb.
Additionally, the Mazda MX-30 comes with rigid body construction and crash energy-absorbing structures to help protect you and your passengers. So, you can drive with confidence when you hit the roads of Shafter in your new all-electric Mazda MX-30.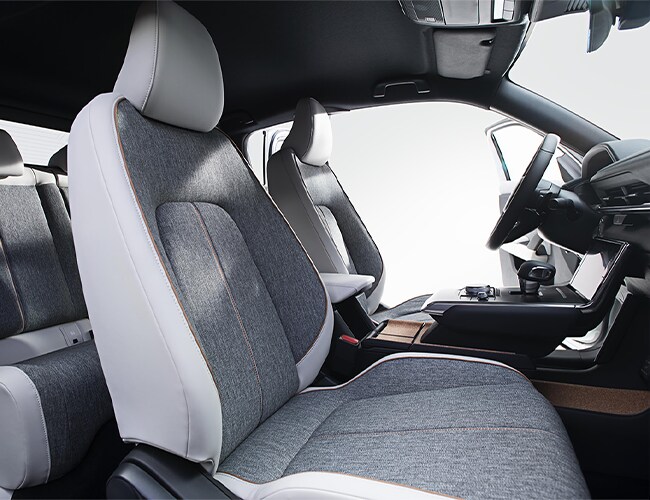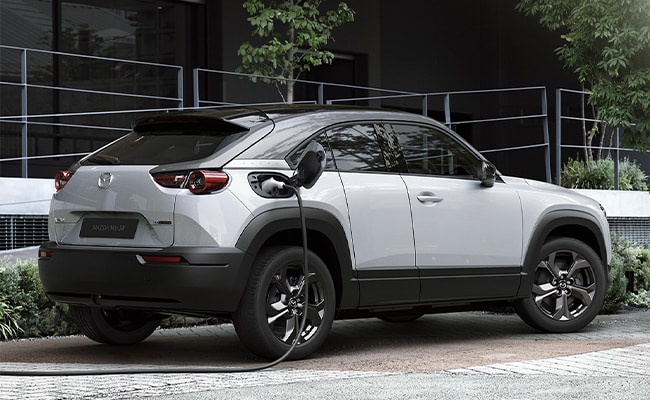 Learn More
We look forward to giving you a closer look at the Mazda MX-30 when it arrives, so we encourage you to get in touch with our team of Mazda experts to learn more about this exciting new addition to the Mazda lineup. We can provide more details about this model and give you more information about how you can get yours when the Mazda MX-30 arrives.
Visit Bakersfield Mazda Today
Contact us today to learn more about the upcoming electric Mazda MX-30 SUV. We look forward to hearing from you and helping you get ready to drive a new kind of Mazda vehicle around Wasco! Keep checking our new inventory for their arrival!